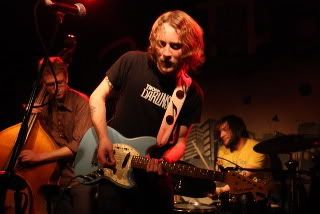 Photos By Nina Mashurova
The Rhode Island/Brooklyn based band Deer Tick opened up for Jason Isbell at T.T. the Bears in Cambridge on Tuesday night. Frontman John McCauley sat down with us before going on stage to talk about where the band's name came from, feelings about covering songs and their upcoming trip to Austin for the South by Southwest Music festival. If you're looking for some good old school rock and roll with a country twang, Deer Tick is for you. Keep an eye out for their show in Allston this April.

You guys came up with your name before you had a band, is there a story behind the name Deer Tick?
There's not that much of a story. The first time I ever got bit by a deer tick I thought of it and I just thought it sounded cool. You know, kinda gross, bad ass.

We heard your cover of "Beautiful Girls" by Sean Kingston, it's pretty funny. I think it sounds better when you sing it. Where did you get the idea to record that?

We were on tour before we did it and Dennis, our drummer, had it on his iPod and we would just listen to it all the time. We thought it would be funny if we covered it but it never really materialized.
Do you ever play it at shows?

We got asked to play it for this music website called cokemachineglow.com because they were doing their second annual fantasy covers where they have their favorite bands of the year play their favorite songs of the year. It seemed perfect at the time but now I kind of regret it because it's almost become a nightly thing that people ask us to play it.

Well we promise we won't ask you to play it tonight.

Thank you.


You also did a pretty awesome cover of Paul Simon's "Still Crazy After All These Years."

Yeah, I just kind of got pretty obsessed with that song, especially the piano part and decided to try to record it for fun.

You guys were at SXSW last year. How did that go?

It was crazy. We did 9 shows in 4 days.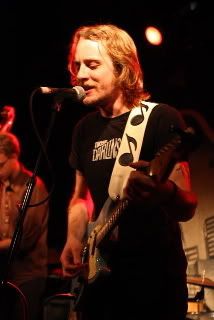 Was it a bunch of different venues all around Austin?
Oh yeah. All day it was just back and forth.

Are you going back this year? Did you have fun playing there last year despite the schedule?

Yeah we're going back there this March. Our schedule is not going to be as hectic because I am not up for that again. But it was tons of fun, definitely. On the way back it was just complete hell because we were all so tired, but it was worth it.

Deer Tick has toured with some pretty big names like Jenny Lewis and the Felice Brothers. Did you enjoy that?

Well, we only did about three shows with Jenny Lewis. We opened for her in Wilmington, Delaware and Connecticut but we were on tour with the Felice Brothers. Playing with both those bands was tons of fun they are great people.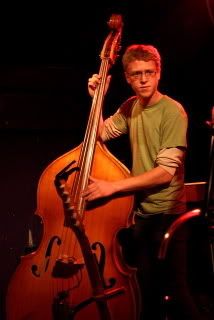 It seems like electronic influences are infiltrating every alternative band out there right now, but Deer Tick has kept a pretty steady country, folk-y sound.

I never really liked electronic or house music, so it's been pretty easy to stay away from that sound. We are becoming more and more of a rock 'n' roll band. I think our recorded music doesn't really give a good sample of what we actually sound like, because War Elephant was just me recording it on my own. Now with the band the sound has really filled out a lot more.

When is your next CD coming out?

It comes out in June. We don't have an exact release date figured out yet but yep. June.

Are you excited?

Oh yeah. It will finally give people a chance to hear what the band sounds like.

Thanks John for taking some time before the show to talk to us!
-Emma Dessau and Nina Mashurova of Nick at Night, Emma in the Evening